News & Events
Brandy Bottom
Masons have completed the work on the conservation of the Horizontal Engine House and the New Pit heapstead at Brandy Bottom. This has been funded by a combination of a grant from the Ibstock Enovert Trust and the AIBT's resources.
Four interpretation boards have been made, thanks to a grant from Historic England. Two are already in place, and the foundations for the other two will be built over the next few work parties.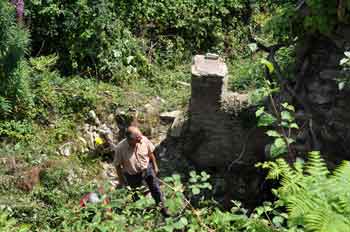 A 'Friends of Brandy Bottom' newsletter (No 18) was published in February 2018.
Photo right: The overgrown entrance to the Vertical Engine House at Brandy Bottom, seen from the top of the adjacent heapstead, December 2011.
Brandy Bottom is currently a working site, and can only be visited during work parties. Special arrangements can be made for groups of 10 or more - please make contact via the AIBT's email address of info@aibt.org. The dates for work parties in 2018 are as follows:
May: Sat 26
June: Sat 09, Wed 20, Sat 30
July: Sat 07, Wed 18, Sat 28
August: Sat 04, Wed 15, Sat 25
September: Sat 08, Sat 15 and Sun 16 (Heritage Open Days), Sat 29
October: Sat 06, Wed 17, Sat 27
November: Sat 03, Wed 14, Sat 24
December: Sat 01, Wed 12
Please note that these dates may be altered at short notice, so newcomers to work parties are advised to first make contact via the AIBT's email address of info@aibt.org. Youngsters must be accompanied at all times by a responsible adult. The times, which are nominally between 10.30 am and 3 pm may also be changed during the course of a particular work party.

Brandy Bottom will be open on the Heritage Open Days weekend of 15 and 16 September 2018.
Brunel's Other Bridge
Infomation on the dates of work parties at the 'Brunel's other Bridge' project can be found on the 'Project' page of their website - brunelsotherbridge.org.uk.
Page updated: 17 May 18