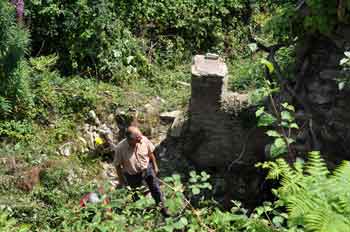 News & Events
Brandy Bottom
A 'Friends of Brandy Bottom' newsletter (No 21) was published in November 2018.
Photo right: The overgrown entrance to the Vertical Engine House at Brandy Bottom, seen from the top of the adjacent heapstead, December 2011. Photo: R Whitworth
The dates of work parties can now be found on the 'Location and Work Parties' page of the site.
Brunel's Other Bridge
As the treasurer of the BOB project, the AIBT would like to thank the Bristol Visual and Environmental Group for a donation of £10 000 in memory of Dorothy Brown. Dorothy was for many years an indefatigable champion of the heritage in Bristol and its environs. †Many historic buildings owe their continuing existence to the battles she fought for the heritage up to her death. The organisation she founded, the Bristol Visual and Environmental Group, is now being wound up, and our project is very lucky to benefit from the residual funds being distributed from her trust by the surviving trustees.
Infomation on the dates of work parties in 2019 can be found on the main Brunel's Swing Bridge page of this website, or on the 'Project' page of the BoB website - brunelsotherbridge.org.uk.
Page updated: 08 Jan 19