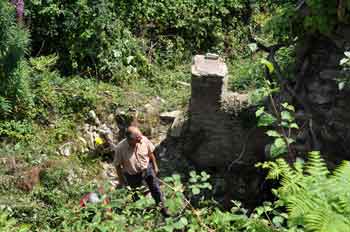 News & Events
In March we received a grant from Historic England for the production of interpretation boards at the mine.
We have also received a grant of £20 000 from the Ibstock Cory Environmental Trust, which will be used to stabilise the stuctures of the New Pit for the foreseeable future. The tops of the heapstead walls will be capped, some of the missing stone facing of the north-west wall replaced, and the surrounds of the window and door openings of the Horizontal Engine House rebuilt.
Photo left: The overgrown entrance to the Vertical Engine House at Brandy Bottom, seen from the top of the adjacent heapstead, December 2011.
A 'Friends of Brandy Bottom' newsletter (No 15) was published in May 2017.
The dates for work parties at Brandy Bottom in 2017 can be found at the bottom of the project progress page.
Page updated: 05 Jul 17