News & Events
Brandy Bottom
Brandy Bottom was open on Saturday 11 and Sunday 12 September 2021 as part of the nationwide Heritage Open Days scheme. There were 122 visitors on the Saturday and 156 on the Sunday. The total of 278 is a sizeable increase on the 182 visitors in 2019, which is the last time the site was open under the scheme.
A potter used part of the New Pit yard during the Heritage Open Days weekend. This was part of a community project by Barratt Homes, who are building a nearby housing estate. The pots made during the weekend will be fired in a kiln built in the yard at Brandy Bottom later in the month.
A 'Friends of Brandy Bottom' newsletter (No 32) was published in August 2021.
The site has been re-opened to visitors during work parties, and the dates for the remainder of 2021 can be seen by following this link.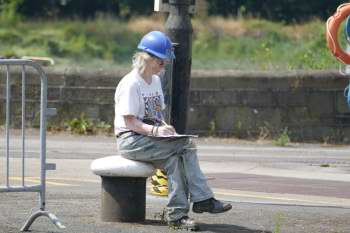 Brunel's Other Bridge
The next work party will be on Saturday 16 October 2021.
Photo bottom right: Visitor survey in progress at BOB, July 2018.
Page updated: 28 Sep 21